Astony
Generously sponsored by Stella and Donald H.
♘Birthdate: 6/30/1988
♘Breed: Welsh Pony and Cob
♘Height: 13.0 hh
♘Intake Date: September 2018
♘Status: Companion Resident
Astony came to the rescue as an owner surrender in 2018 when his family, who have owned and loved him since the day he was born, moved overseas. He's an older guy at the ripe age of 30, and he does have cataracts developing in both eyes that interfere with his vision. He has a big, sassy personality and is very lively and active. Astony— which means "to astound"— came to his family as a surprise many years ago when they bought a mare without knowing she was in foal. They told us he was quite a mighty jumper in his younger years and has always been a bit mischievous. He seems to love carrots and grain, but will need a refresher on how to be a good citizen since he's hasn't been kept with other horses or handled too often in several years.
Bella
Generously sponsored by Sarah W. in loving memory of her mother Sarah Stephens
♘Birthdate: 1/1/1997
♘Breed: Arabian
♘Height: 14.1 hh
♘Intake Date: July 2014
♘Status: Companion Resident
Bella is a fully blind mare that was surrendered to the rescue due to a neglect situation. She was said to have had a stillborn foal the fall before coming to the rescue. Bella struggles with her vision impairment and relies heavily on her blind mini companion, Honey Bun. They know the limitations of their paddock and do just fine there, but have high anxiety and do not function well if they are moved. Bella is hesitant to trust people, but will allow herself to be caught and loved on. She responds well to a soft voice and a gentle touch. We are continuing to work with her so that she will feel more comfortable.
BOO
♘Birthdate: 1/1/1996
♘Breed: Quarter Horse
♘Height: 16.0 hh
♘Intake Date: July 2015
♘Status: Companion Resident
Boo was surrendered to us by a family from the coast of Oregon who was unable to care for Boo's sudden onset of blindness. As the story goes, Boo went blind late in life rather spontaneously as a reaction to wormer. Because of this, he suffers from high anxiety and nervousness due to the rapid loss of vision. Even stranger, when Boo got to OHR, he developed severe and life-threatening allergies to the Willamette Valley grasses and pollens and is now kept at a rescue facility in Klamath Falls, Oregon. Boo is eligible for sponsorship.
BUTTERCUP
Generously sponsored by Charlotte S.
♘Birthdate: 1/1/1991
♘Breed: Thoroughbred cross
♘Height: 15.1 hh
♘Intake Date: December 2017
♘Status: Companion Resident
Buttercup is a blind Thoroughbred cross who was transferred to OHR from another rescue on the Oregon Coast that wasn't able to adequately deal with her blindness and anxiety. Since she has been with us, we have watched her settle in and have even been able to turn her out to pasture with a small herd. Due in part to her anxiety and her breed, Buttercup is what we call a "hard keeper" as she struggles to keep weight on and therefore needs to have her nutrition highly managed. The added expense of her daily feed routine makes Buttercup an excellent candidate for sponsorship (which would also mean she gets more peppermints— her favorite treat!)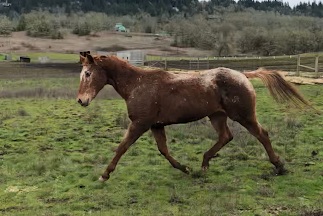 Earl
Generously sponsored by Debbie O.
♘Birthdate: 1/1/1983
♘Breed: Appaloosa
♘Height: 15.3 hh
♘Intake Date: May 2013
♘Status: Sanctuary Resident
Earl is an advanced age Appaloosa gelding and has been a long-time resident in OHR's sanctuary program. Earl has been with us since 2013 after being abandoned at auction. His body bears the sad scars of a traumatic and violent past, possibly as a Mexican roping horse, and remind us how much he needed a safe space to land. Even at his age, Earl is still playful and full of life and he enjoys spending his days out to pasture with his lady friend, Beauty. This pretty guy loves getting into mischief like letting himself out of his stall and opening gates and latches--a testament to his intelligence!
Fanci
Generously sponsored by Tami K.
♘Birthdate: 1/1987
♘Breed: Arabian
♘Height: 14 hh
♘Intake Date: October 2014 & February 2019
♘Status: Companion Resident
Fanci first came to the rescue in October of 2014 when she was surrendered to the rescue by an owner who was not a good fit for the horse. Fanci was eventually adopted out to another family that loved her and cared for her, but unfortunately they had complications with pregnancy (human, not equine) and could no longer give this old mare the care she deserves. We agreed to do what was best for the horse and take Fanci back. She is a sweet mare full of life and spunk. Due to her age and a slight club on her right front, Fanci is retired from riding but is very easy to catch, lunge, and work in-hand. She leads well, loves children, and has good ground manners.
Gemma
♘Birthdate: 1/1/2002
♘Breed: Quarter Horse
♘Height: 15.0 hh
♘Intake Date: October 2014
♘Status: Companion Adoption
Gemma is a chestnut mare that came to the rescue as a surrender when she was abandoned at a child's birthday party. Gemma is sweet and likes attention, but she also has a tendency to be herdbound if kept out to pasture 24/7. She has an old, cold injury to her hock (likely an un-treated break before she came to us), so she is best suited for a home as a pasture companion or in-hand horse and is not rideable. Gemma gets along with both mares and geldings and enjoys working in the round pen. She underwent 30 days of professional training in July of 2019 where she learned to navigate mountain trail obstacles and sharpened her ground work.
Honey Bun
Generously sponsored by Glennis Y.
♘Birthdate: 1/1/1997
♘Breed: Miniature
♘Height: 8.0 hh
♘Intake Date: November 2015
♘Status: Companion Resident
Honey Bun is a sweet appaloosa miniature mare. She came to the rescue after her owner was physically unable to care for her. She is fully blind and has adapted comfortably to her paddock, but does not do well if she is moved outside of it. She does lead well and is trusting if she has someone with her. She is housed with Bella – a blind Arab mare – and does well with her, but does not like to be alone. Honey Bun is a very sweet little mini and loves peppermint treats.
Kullem
Generously sponsored by John W.
♘Birthdate: 5/1/1990
♘Breed: Quarter Horse
♘Height: 15.1 hh
♘Intake Date: April 2019
♘Status: Companion Resident
Kullem is an advanced age paint gelding who has lived with his long-time pasture mate, Major, for the past 27 years. The pair was surrendered to the rescue by their owner at no fault of their own. Kullem is a friendly horse and will come up to you in the field, but he's a little wary of being caught. Despite his age, Kullem enjoys trotting around the pasture and grazing with his best buddy, Major. We suspect Kullem may have early onset Cushing's disease, and he will spend the remainder of his days as a resident of OHR.
Major
Generously sponsored by John W.
♘Birthdate: 4/5/1988
♘Breed: Quarter Horse
♘Height: 15.1 hh
♘Intake Date: April 2019
♘Status: Companion Resident
"Major Jet Speed" is an advanced age bay gelding. Major is a retired racehorse who came off the track after just two races. He was surrendered to the rescue by his long-time owner of 27 years. In his younger days, Major was a trail horse and he has had lots of exposure to common trail obstacles (water, ditches, etc.). Now, this big guy prefers to graze the day away in the field and enjoy long grooming sessions with snacks. He is welcomed to OHR as a sanctuary resident so he can stay with his pasture mate of nearly 30 years, Kullem.
Riata
Generously sponsored by Wendy D.
♘Birthdate: 1/1/2014
♘Breed: Paint
♘Height: 15.0 hh
♘Intake Date: September 2016
♘Status: Companion Adoption
Currently our youngest resident, Riata came to us in 2016 as an owner surrender with a badly damaged right front fetlock. She had been kicked in the leg and left untreated, the injury resulted in a bone infection that the vet thought would ultimately deteriorate the integrity of the leg within a few years. However, Riata is a fighter and the bone has fused, giving Riata the rest of her life ahead of her. She will make someone an excellent in-hand partner, but she cannot be ridden or bred due to the added stress of extra weight on her leg. She is a young, capable horse that is currently in ground work training to expose her to mountain trail type questions. She has crossed bridges, creeks, banks, walked the plank and the teter-totted and is very willing. She is even learning to be lead by a handler using a motorized wheel chair and work on the longe line. Riata is careful and reserved and would make an excellent in-hand partner for a mountain trail, therapy, or companion home.
(Additional Photos Available Here)
Misty
Generously sponsored by Amy S.
♘Birthdate: 1/1/1997
♘Breed: Appaloosa
♘Height: 14.3 hh
♘Intake Date: October 2013
♘Status: Companion Resident
Misty arrived at the rescue after being surrendered by her owner who was no longer able to care for her. Her owner was leaving home and her family were unable to handle a blind mare. She is a fully blind, but was said to be broke to ride back in the day. We think she may have some back sensitivities because she sometimes crow hops when blanketed. Misty roams the pasture freely despite being blind and is easy to catch. She loves to be groomed and is quite food motivated! She is a permanent resident here at OHR.
Samsung
Generously sponsored by Prudy Z.
♘Birthdate: 1/1/1995
♘Breed: Thoroughbred
♘Height: 16.1 hh
♘Intake Date: January 2016
♘Status: Rideable Adoption
Samsung is a bay TB who came to OHR after his owner found herself in the hospital for almost a year just three weeks after she got him, and she ultimately had to surrender him. Samsung is sound and broke to ride. He has big movement, which could intimidate a novice rider. He lunges well in both directions, despite having his right eye removed due to an old injury. Samsung is looking for a home that will remind him of his ground manners, as he can sometimes be pushy on the ground. Samsung does best in pastures with all geldings because he can get overly attached to mares. He can be stalled or kept in a pasture but does occasionally crib and may need to wear a cribbing collar in the stall.
8/1/19* Samsung is currently on stall rest following a minor fracture. Please contact OHR about his availability.
Nana Rose
Generously sponsored by Natalie and Robin N.
♘Birthdate: 1/1/1984
♘Breed: Mustang
♘Height: 15.2 hh
♘Intake Date: August 2015
♘Status: Companion Resident
Nana Rose is a Mustang mare that is a barn favorite. Back in the day, this stout mare packed around little kids as a summer camp horse before ending up at the Eugene auction, likely due to her age. She was originally purchased by a family that reached out to us for post-sale quarantine, but unfortunately they were unable to keep Nana so she became a permanent resident of OHR in 2015. Though she has some arthritis creeping up as she ages, Nana remains the herd boss of her pasture and loves to scratch herself on the old oak trees and roll in the grass.
Horses General